Le site web de l'association Label Soulac est actuellement en cours de reconstruction. Si vous souhaitez des renseignements concernant un événement contactez-nous ou rendez-vous sur Facebook ou Instagram
+33(0)9 75 43 07 29 – labelsoulac@wanadoo.fr
The website of the association Soulac Label is currently being rebuilt. If you want information about an event contact us or go to Facebook or Instagram
+33 (0) 9 75 43 07 29 – labelsoulac@wanadoo.fr
Prochain événement :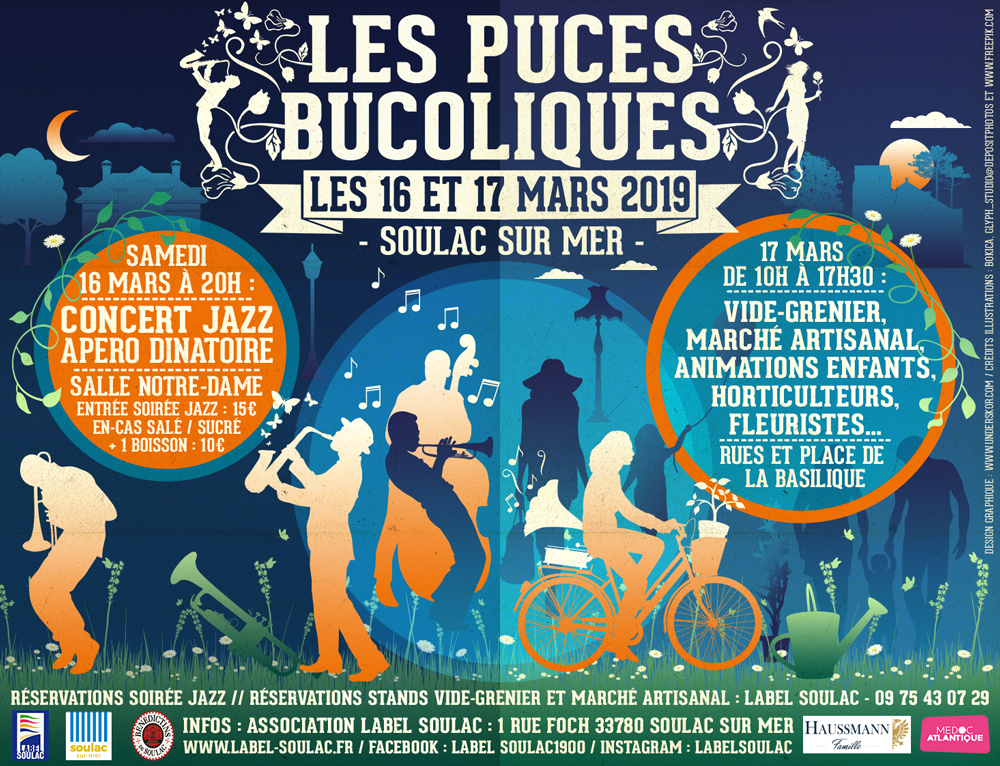 Soirée Jazz à Soulac, Concert et apéritif-dînatoire à partir de 20h, Salle Notre Dame, Soulac sur Mer, 15€/pers le concert, 10€ l'assiette et un verre.
Puces bucoliques le 17 mars 2019, de 10h à 17h30, Place de la basilique, Soulac sur Mer. entrée gratuite.
Inscription vide grenier et puces bucoliques : +33(0)9 75 43 07 29 – labelsoulac@wanadoo.fr
Next event:
Jazz evening in Soulac, Concert and aperitif-dinner from 20h, Notre Dame Room, Soulac sur Mer, 15 € / pers the concert, 10 € plate and drink.
"Puces bucoliques" on March 17, 2019, from 10am to 5.30pm, Place de la Basilique, Soulac sur Mer. Free entry.
Registration empty attic and puces bucoliques : +33 (0) 9 75 43 07 29 – labelsoulac@wanadoo.fr